But to you who are listening I say: Love your enemies, do good to those who hate you, bless those who curse you, pray for those who mistreat you.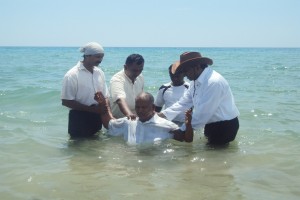 Re-birth in Christ
The baptism was held on the 13th of July 2013,
at the Kaluwankerni beach, Eastern Province,
Batticaloa. The Pastor along with his co-ministers
conducted this event. The presence of God
was clearly felt, when 26 believers were
baptized on that day. This event is being conducted
annually or bi-annually, when the need arises
depending on the number of new believers.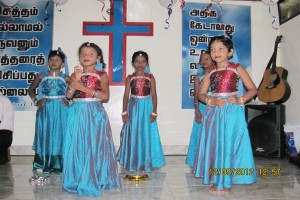 Guiding towards the light of God
Sunday school is held every Sunday,
before the Sunday service. Currently
there are 62 students and 8 teachers.
Children are guided here to walk in the
light of God. Annual exams will be conducted
for the students at the end of the year.
Christmas programmes would be held
at the end of the year too, in which the Sunday
school students participate performing plays,
songs and various items.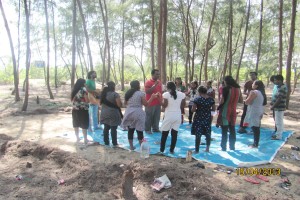 Future worriers in the Lord's Army
At present there are about 22 youths
in our youth fellowship. Youths involve themselves,
helping to spread the gospel through evangelical
ministry. They work together with the Women
fellowship for evangelism. Youth fellowship meetings
are conducted on every first Friday of each month
in the evenings at 4.00pm, followed by prayers
at 5.00 pm.
Deborah Fellowship
At present there are 30 women in our
Woman fellowship. Women involve in
evangelism work together with the youth
fellowship, to spread the gospel of God.
Every last Friday of the month women
fellowship meeting is held in the evening at 4pm.
Church Timings
Sunday Service : 10:30am onwards
Sunday School : 09:30am – 10:10am
Saturday : Fasting Prayer
10:30am onwards
Daily Night Vigil Prayer :
11:30pm onwards
Every Friday
Gents Prayer 7:30pm – 8.30pm
Preparation Prayer for Sunday Service
Every Saturday 7:00 pm – 8.00pm
Thanks giving Prayer for Sunday Service
Every Sunday 6:00 pm – 7.00pm
Every last Friday of the month :
Men's Evangelical Ministries
Every Month – 3rd Week of Tuesday
Women's Evangelical Ministries
Every Month – 3rd Week of Friday
Women Fellowship meeting
4:30pm – 6:00pm
Every First Friday of the month :
Youth Fellowship meeting
4:00pm – 6:00pm
Every Second Monday
Youth Revival Prayer 5:00pm – 6.00pm
Every Monday & Thursday :
Youth Prayer 5:00pm – 6.00pm